Serenity Team
Serving with Dignity, Sympathy & Compassion
Chong Elson
Managing Director, Serenity Casket & Funerals
Chong Elson
Elson Chong, the son of a funeral director and none other than the founder of Serenity Casket & Funerals. He obtained a degree in BSc International Tourism & Hospitality Management (Hons) at the University of Sunderland, and has been in the funeral industry since 2009.
When he was a teenager he never imagined himself venturing into the funeral industry even though his family was in the business. One of the reasons was because some friends distanced themselves from him when they knew about his father's occupation. However, somewhere along the way, during his school holidays, his father asked him to help out at his company, and that made him inspired by his father's spirit of serving and compassion towards bereaved families. It made him realize how much of a difference one can make being in this line of business. That was his motivation to study hard and continue on in this line of business.
Elson spends most of his time working, but during his free time, he enjoys spending time with his family as he has two beautiful children with his wife Sarah who too works for Serenity. Their immense passion that they have together to serve the bereaved families is indeed truly inspiring.
Not a day goes by where Elson does not feel privileged to assist and support the families during these difficult times.  On top of it he only believes in providing funeral services with a personal touch for every individual family and utmost dignity to send their loved one off.
Sarah Ang
Embalmer (NZEA), Funeral Director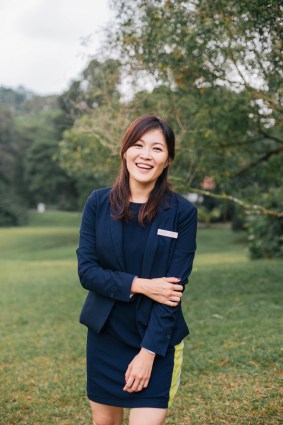 Sarah Ang
Embalmer (NZEA), Funeral Director
Sarah Ang, a funeral director and certified embalmer in Singapore, represents the new breed of embalmer: female, local, passionate and full of sympathy.
When she was 19 years old, her father passed on and at that time she started to be involved in the funeral industry in Singapore. Her father was a funeral director, back then, they were known as an "Undertaker". Her inspiration definitely came from her father; watching him help many poor families on their funeral expenses to being the first to introduce western casket to promote cremation instead of burial and so much more. It was his helpfulness and courage that stood out the most to her. This led Sarah to study and train in New Zealand to become the certified embalmer she is today. The experiences that she had in New Zealand opened her eyes and inspired her to create many ideas for the funeral industry in Singapore.
Like Elson, Sarah spends most of her time working, if not she would spend the rest of her time with her amazing children who lights up her world in many ways. Sarah's passion in embalming is none like any other, she believes that it is the last thing that she can do to beautify the bereaved for their loved ones so that they can say their final goodbyes and to her that is when she knows she's done her job well.
Nicole Chong
Funeral Co-ordinator, Embalmer Trainee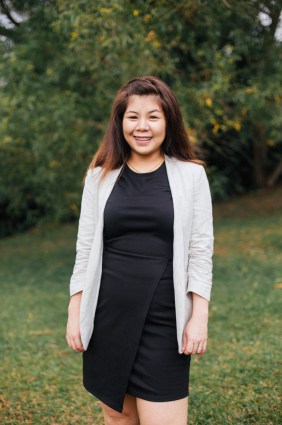 Nicole Chong
Funeral Director, Embalmer
Nicole is believed to be the youngest funeral director and embalmer in Singapore. Since young she has always been different than many, never wanting to be stuck in an ordinary job. It was her endless curiosity that led her to join Serenity as a part-timer at first; working at night services, serving beverages and operating sound systems. When she was 19 turning 20, she was given an opportunity from Elson (Managing director of Serenity), her brother to enter the funeral trade and this was where her career in embalming kicked off. Sarah (Funeral Director/ Embalmer was her mentor through it all.
During her free time, she enjoys doing all sorts of DIY things, be it cutting and pasting things as well as stitching. She finds it very satisfying to accomplish things that she really loves to do.
One of her greatest motivation in life is her daughter, whom came as a blessing to her and has opened her eyes to a lot more than before. Her daughter motivates her to want to do better and provide for her in ways she never would have thought possible. Her daughter has also taught her to appreciate those around her more and it is a reminder to her that every single moment spent with a loved one is precious. As Nicole said, "She is what gets me out of bed every morning to go on with the rest of the day. As the love that I have for her is endless, it is my true motivation to become a better mother, a better daughter and definitely a better person." On top of this, Nicole believes that in time to come, she will be able to take her loved ones, especially her mother and her grandparents to travel around the world.
Jacky Tan
Jacky Tan, Operation Manager, joined Serenity Casket in 2016. Previously before joining Serenity, he was working as a freelance pallbearer as just another source of extra income. However, as time went by, he started to develop interest and passion in this trade. Having loss of three family members within the span of six years taught him that the bereavement period is one of the most important.  That is why he believes that a strong, close knitted team, like Serenity has, plays that important role by caring and being attentive to family needs.
During Jacky's free time, he enjoys spending quality time with his family and searching the web on funeral information to allow himself to expand his knowledge on it. He also goes fishing and plays soccer from time to time.
What motivates Jacky is his career and his family. He is very thankful to his boss, Elson Chong, Founder of Serenity Casket, for his unwavering care and leadership that has guided him to where he is today. Jacky too mentioned that he would not have come this far if it was not for his loving and hardworking colleagues. Not forgetting his family who has given him the strength to look forward to every day.
Jacky did not have things easy during his younger years, but despite the setbacks, he truly hopes that he can help Serenity grow and soar above new heights one day soon and his goal is to become the best husband and father he could possibly be to his wife and children.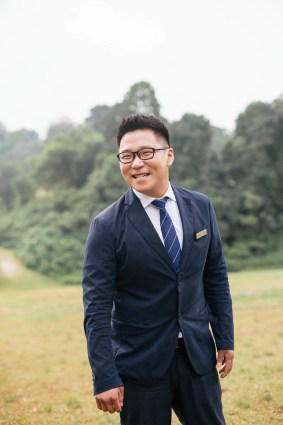 Jeremy Hong
Jeremy Hong, Funeral Supervisor, joined Serenity as he had an immense passion to serve. Being with Serenity not only allowed him to make a difference to the client during their time of need but it is really special to him that he can even be one of the honourable few to send their loved ones off on their last journey.
During his free time, Jeremy enjoys playing basketball, gaming and of course making the best out of the time he is able to sleep as being in the Funeral line, you do have limited hours of sleep at times and at the same time when people are sleeping, they are the ones awake ensuring that everything is in order for their clients. To Jeremy, that is very important as every family that he serves are unique on its own and he would go the extra mile just to make the difficult times as special as it can be.
Because of his experiences and seeing families go through this tough period, it has shown him the importance of family and has motivated him to be successful so as to provide for his family in the future and one day have his own business.
Harris Adam
Logistics Coordinator / Funeral Assistant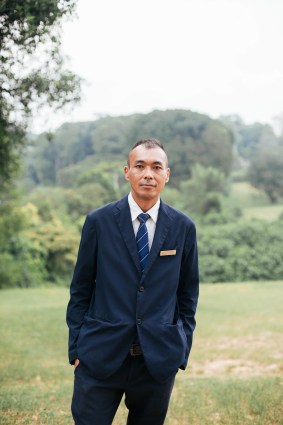 Harris Adam
Logistics Coordinator / Funeral Assistant
Harris, Logistic Coordinator/ Funeral Assistant, joined Serenity after working for a Tentage company where he mostly set up tents for funerals and wakes. That inspired him to want to work for a Funeral company so that's when he started his career with Serenity. He is truly thankful to the directors for giving him the chance to learn and grow in this trade as every funeral and wake allowed him to face different challenges and cultures.
Harris enjoys watching movies, dining and shopping. His children are his true motivation and he strives to be successful in his career so as to be a good role model for them. His goal is to overcome all obstacles and challenges in life and to provide for his family in the best possible way.
Zhou MingYuan
Logistics Coordinator / Funeral Assistant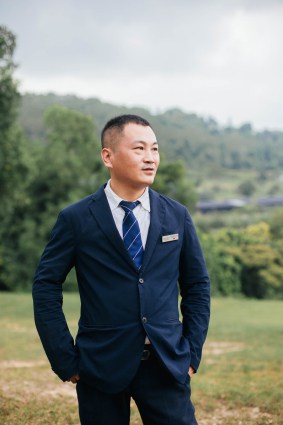 Zhou MingYuan
Logistics Coordinator / Funeral Assistant
Zhou Mingyuan, Logistic Coordinator/ Funeral Assistant, finds Funeral service to be a very special and distinct service that one can provide grieving families. Not only by just comforting them but creating a peaceful last moment for the deceased.
Mingyuan enjoys reading e-books and playing games during his free time. His biggest enjoyment in life however, is food. He especially loves traditional Northern Chinese dishes. For most of his life, it has been a struggle for him and his family. He hopes that one day he can provide for his family and give them the happiness they deserve. His goal in life is to open a restaurant chain in China one day.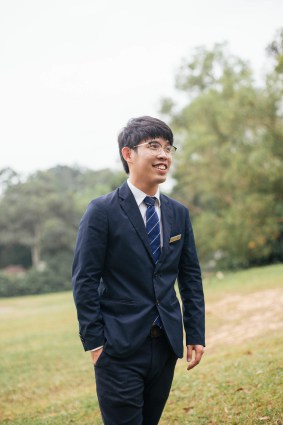 Adrian Chia
Adrian Chia, Funeral Assistant, ventured into Serenity although it was a completely new industry and unknown profession to him as he found it to be something exciting and rewarding.
During his free time he enjoys singing, gaming and is an anime fanatic. His parents is his motivation and he hopes that he is able to work hard enough to let them retire at an earlier age. He strives to own his own business be it small or big one day.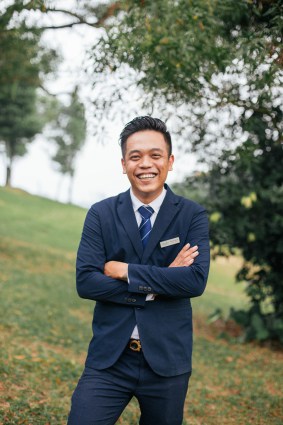 Jonathan Lee
Jonathan Lee, Funeral Assistant, joined Serenity as he wanted to learn something new out of the ordinary and face different challenges. He too finds it important to make a memorable last journey for the decease and the families.
During his free time, Jonathan loves to read, swim and cycle. His motivation in life is family and he strives to provide a better future for himself and his family. Jonathan hopes to be successful in his career and build a family of his own one day.
Always Comforting Because We Care
Find out more about our Packages