Serenity Team
Serving with Dignity, Sympathy & Compassion
Chong Elson
Managing Director, Serenity Casket & Funeral
Chong Elson
Managing Director
Chong Elson, the son of a funeral director, the founder of Serenity Casket & Funerals. He obtained a degree in BSc International Tourism & Hospitality Management (Hons) at the University of Sunderland, and has been in the funeral industry since year 2009.
Serenity Casket and Funerals is a funeral company that believe in providing funeral services with personal touch and dignity. The company was one of the first to prohibit the use of New Zealand Eco-friendly casket and one of the first to promote limousine hearse with a reasonable price where even average family household can afford a dignified send off for their loved one.
"As a teenager, I have never had the intention to join the funeral industry even though my family runs a funeral home. Some friends distanced me when they heard about my father's occupation, Undertaker. However, during school holidays, my dad asked me to help out at his company, I got inspired by his spirit of serving and how we made a difference to bereaved families at the time of loss. I told myself then; I will study hard and continue this line of business to help the community and serving the bereaved, bereaved families with sensitivity, care and concern.
Today, I feel privileged to assist the bereaved families and support them during these difficult times. We are committed to listen and guide bereaved families through the options and we take good care of all the details.
We are dedicated to what we do and serve with care.
'I believe in doing what is right and is proud to be part of Serenity Casket & Funerals.'
I am married to my wonderful wife, Sarah, a passionate embalmer to take good care of the bereaved. We work closely on every client and provide the best solutions and care for them.
Sarah Ang
Embalmer (NZEA), Funeral Director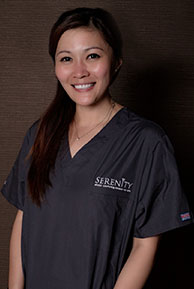 Sarah Ang
Embalmer (NZEA), Funeral Director
Sarah Ang, a funeral director and certified embalmer in Singapore. She represents the new breed of embalmer: female, local, passionate and full of sympathy.
When I was 19 years old, my dad passed on and at that time I started to be involved in funeral industry in Singapore. My Dad was a funeral director, back then, they are known as "Undertaker". I had seen him helped many poor families on the funeral expenses, worked with many to enhance the funeral industry. He was the first to introduce western casket to promote cremation instead of burial. It was a success and he was my inspiration. He had always been helpful and dare to be the first to introduce new products and services into the market. Back then prep room had never been as desirable as compare to today, however my dad will improvise and design and build useful equipment to enhance the work flow for the staff.
In school, when asked what my dad does, I would say my dad work in the wood industry instead of casket. I was too worried. When some schoolmates found out that my dad is a undertaker, some may find me very cool, giving me nick name like "daughter of undertaker" some wouldn't befriend or talk to me.
I studied and was trained in New Zealand as a certified embalmer. It was the best ever experience I can ever have. I worked with many experience embalmers and funeral directors. They are professional and awesome people to work with. My experience in New Zealand had inspired me and gave me many ideas and solutions to the funeral industry in Singapore. Of course there will be many challenges but I always motivate myself, " I am half way there, just keep going."
Embalming is the last thing that I can do to beautify the bereaved for their loved ones. My job is fulfilling when I can restore them to a state where their family is able to say their goodbyes, then I know I've done my job well.
Nicole Chong
Funeral Co-ordinator, Embalmer Trainee
Nicole Chong
Funeral Co-ordinator, Embalmer Trainee
Nicole has been a special girl since young, she never wanted to be stuck in any ordinary job, naturally to follow her brother and father's footsteps and work in funeral industry.
Nicole started in 2014, had training under his brother, Elson and at the age of 20 years old, she is believed to be the youngest female funeral director in Singapore.
Working in funeral industry has been very challenging compared to my previous two jobs as boutique assistant and hairdressing. I feel the female touch works. My gentle, caring nature quickly form an affinity with bereaved families. It is a great privilege and honour to be able to assist families at such a difficult time in their lives and I will go the extra mile to ensure that families' wishes are accommodated wherever possible.
At the age of 19, I persuaded both my brother and father to allow me to do what they are doing. After months of persuasion, they finally gave in, however I was given a time frame to learn. If I can't meet their expectation, they will ask me to work in the outside world. I must thank them for being strict to me and I learned lots of things from them and the staffs in the company. It's all about being understanding and gentle with people. It's a really worthwhile thing to do.
My interest to be a certified embalmer like my sister-in-law also grows upon her return from New Zealand. I am inspired to be a certified embalmer; it really makes a lot of difference to families to bid goodbyes to their loved one.
Jeremy Hong
Service Team Supervisor
Jeremy Hong
Service Team Supervisor
Jeremy Hong, Service Team Supervisor, joined Serenity with a passion to serve. With his team of dedicated staffs, Serenity creates a special relationship with our client to make a difference in those experiencing loss.
I feel incredibly fortunate to be part of Serenity team. This provided me the opportunity to understand my passion to serve, to assist and to care for the bereaved. I find it inspiring and rewarding to be able to give even small measure of comfort to the families we look after.
How did I even get into the industry? It all happened after reading a magazine article on a funeral director who shared their meaningful experience with their clients. I got inspired and know Serenity through a close friend, he introduced me to Nicole. After a few meetings with Elson and Nicole, their stories make me even more firm in joining the company.
Since working here at Serenity Casket & Funerals, I have confirmed this is the industry I want to work in. I enjoyed my work, every individual families that we serve are unique as its own. I will go extra mile for the small things just to make the difficult time as special as it can be. Being appreciated and seeing families go through this period is the most rewarding experience I can ever have.
Always Comforting Because We Care
Find out more about our Packages